You must be aged 16 years or over, resident in either Jersey, Guernsey, Gibraltar, Isle of Man or the UK and be an existing NatWest International current account customer to open an Instant Saver account.
Why choose an Instant Saver account?
Our Instant Saver account is ideal if you want an everyday savings account that gives you instant access to your savings, while still earning interest.
TickStart saving with as little as £1
TickEarn interest on your balance even if you've made a withdrawal
TickOpen your account online through your online banking
TickManage your money 24/7 online or via the app
TickInstant access to your savings whenever you need them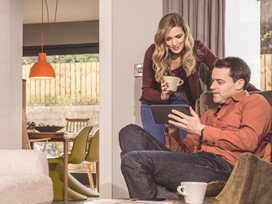 In Detail: Instant Access
What's the interest rate?
Interest rates are variable and are subject to change. Interest is calculated daily and paid on the first business day of each month and at account closure.
You'll earn one rate of interest on your entire account balance. There are no regular saving conditions or monthly bonus conditions with this account.
Interest is calculated daily and paid on the first business day of the month and at account closure. You'll be able to see and access the interest in your account on the following day.
Can NatWest International change the interest rate?
Yes, the interest rate is variable.
The rate may increase or decrease for any of the reasons set out in Term 10.3 of the Personal Banking Account Terms and Fees to account for the Bank of England's base rate changes or changes in the rates paid by other banks.
If the rates are going down we'll give you at least 60 days' notice. If they are going up, we'll inform you before the change or shortly afterwards. Term 10.4 of the Personal Banking
Account Terms and Fees contain details of the notice we'll give you.
How much interest could I earn after 12 months based on a range of deposits?
Initial deposit at
account opening
Balance after 12 months
Interest earned
£1,000
£1,004.51
£4.51
£25,000
£25,112.73
£112.73
£100,000
£100,450.93
£450.93
This is only an example and does not take into account your individual circumstances.

It assumes that no further deposits or withdrawals are made; there is no change to the interest rates and tiers; and any interest earned stays in the account.
You must be aged 16 years or over to open an Instant Saver account.
How do I open and manage my account?
Accounts can be opened and managed online, in branch or by telephone banking. To open an account online or by phone, you will need to be a registered user of these services.
No minimum deposit is needed to open the account, you do not need to pay money in on a regular basis and there is no maximum balance limit. Interest will be paid on balances of £1 and above.
Money can be managed online, via the app, by telephone or in branch. You can also pay money into your account at one of our cash deposit machines.
Can I withdraw or transfer money?
Yes, having an instant access savings account means that you can withdraw or transfer your money at any time.
You can withdraw or transfer money:
in branch
online, by telephone or within the mobile app
Money can be transferred to any other account based in the UK, Channel Islands, Isle of Man or Gibraltar.
There are daily limits on the amount you can transfer from your account online, by telephone or mobile banking. You can find out the current daily limits by calling telephone banking or asking in branch.
Annual Equivalent Rate (AER) - This is a notional rate used for interest bearing accounts which illustrates what the gross credit interest rate (excluding any bonus interest payable) would be if paid and compounded on an annual basis. It helps you to compare the effective rates of credit interest on different accounts.

Gross Rate - This means the interest rate you are paid before the deduction of tax.
We want to make sure that you have all the information you need before you open an account with us. So before you do, please take some time to read and save,download or print this information.